6 Insights on Legacy Giving in Singapore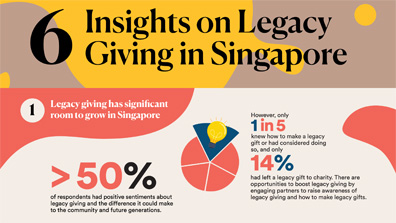 Please scroll to the bottom of the article for the full infographic.
CFS collaborated with NVPC for the first time to take a focused look at legacy giving in Singapore. Through a dedicated legacy giving module in the 2021 edition of NVPC's biennial Individual Giving Study (IGS), we collected data on legacy giving in Singapore – and uncovered six intriguing insights.
Legacy giving has significant room to grow in Singapore
Legacy giving is the act of planning a future gift to a cause one is passionate about. It falls under the umbrella of estate planning – setting out how one's assets should be distributed to the people and causes one cares about. While legacy giving may be new to Singapore, we found that there is space for it to grow.
From our results, only 1 in 5 respondents knew how to make a legacy gift or had considered doing so, and only 14% had left a legacy gift to charity. As legacy giving is a relatively new concept to Singapore, this is understandable.
We found it encouraging that more than 1 in 2 respondents had positive sentiments about legacy giving and the difference it could make to the community and future generations. This shows that legacy giving has the potential to grow, and that there are opportunities to unlock this potential by collaborating with partners to strengthen awareness and knowledge of legacy giving.
Loved ones are important in giving decisions
The study also found that loved ones are critical to decisions on legacy giving. 9 in 10 respondents preferred to first speak to friends and family about legacy giving, while more than 50% of respondents would also consider making a donation to charity in their will after their dependents could look after themselves.
Having open conversations with loved ones about legacy giving is thus important, and can bring diverse perspectives to the table, potentially shaping a smooth and impactful giving journey. Once one's dependents are adequately taken care of, a suitable sum can then be set aside for charity. After all, a legacy gift helps to build a better future for them.
Donors are passionate about purpose
It was also important to our respondents that their donations leave a lasting impact and benefit their chosen charities. More than 6 in 10 respondents would leave a legacy gift to help others in the community, and about 6 in 10 would do so if the gift could impact the future or set a good example for the next generation.
We also found that cash was the most popular way to give, with more than 7 in 10 preferring to donate cash in a will. Reaching out to donors to remind them of the difference their legacy gifts can make, as well as highlighting simple and popular ways to give, could boost legacy giving and encourage more to consider making legacy gifts.
Women can be legacy giving influencers
The role of women in legacy giving can be significant. With women's wealth growing at 10.4 per cent annually in the region, women may well be the new face of wealth in Asia1 – representing a growing pool of potential legacy givers. In addition, we found that only around 1 in 5 women respondents were uncomfortable with having conversations about legacy gifts, which was significantly less than their male counterparts.
As such, the potential of women to influence the growth of legacy giving is great; in addition to their growing capacity for legacy giving, tapping on women as spokespersons could be a powerful way to spark legacy giving conversations.
Youths and mid-lifers recognise the benefits of legacy giving
When it comes to legacy giving, it is never too early to start planning. Encouragingly, we found that respondents in their youth, as well as early- and mid-career, recognised the benefits of legacy giving.
About 6 in 10 youths (aged 15-35) and mid-lifers (aged 36-49) surveyed agreed that everyone could make a legacy gift, and that it was a way to give back and make a difference. Given more "how-to" information on making legacy gifts, they could be encouraged to start legacy giving conversations with their families.
Being assured that the charity is well-managed is important for older givers
Older givers, meanwhile, are motivated by high levels of accountability and governance when it comes to giving. We found that believing that the charity was well managed was one of the top 3 motivations for pre-seniors (aged 50-64) and seniors (aged 65+) who had made a legacy gift.
Among these respondents, over 3 in 10 pre-seniors and almost 4 in 10 seniors were motivated by this belief – significantly more than other age groups. As such, charities should maintain high levels of accountability and governance to attract legacy donors.

1 Boston Consulting Group, Managing the Next Decade of Women's Wealth (2020).